Chicco has long been a trusted brand for car seats, most notably for their extremely popular Chicco KeyFit 30 infant car seat. In this Chicco Viaro review, you'll find out what makes the Chicco KeyFit 30 one of the best infant car seat options around, the pros and cons of the Chicco Viaro stroller, and whether or not you should buy the Chicco Viaro travel system. I'll also offer a few alternative travel systems at the end to help you make the right choice for your family's needs.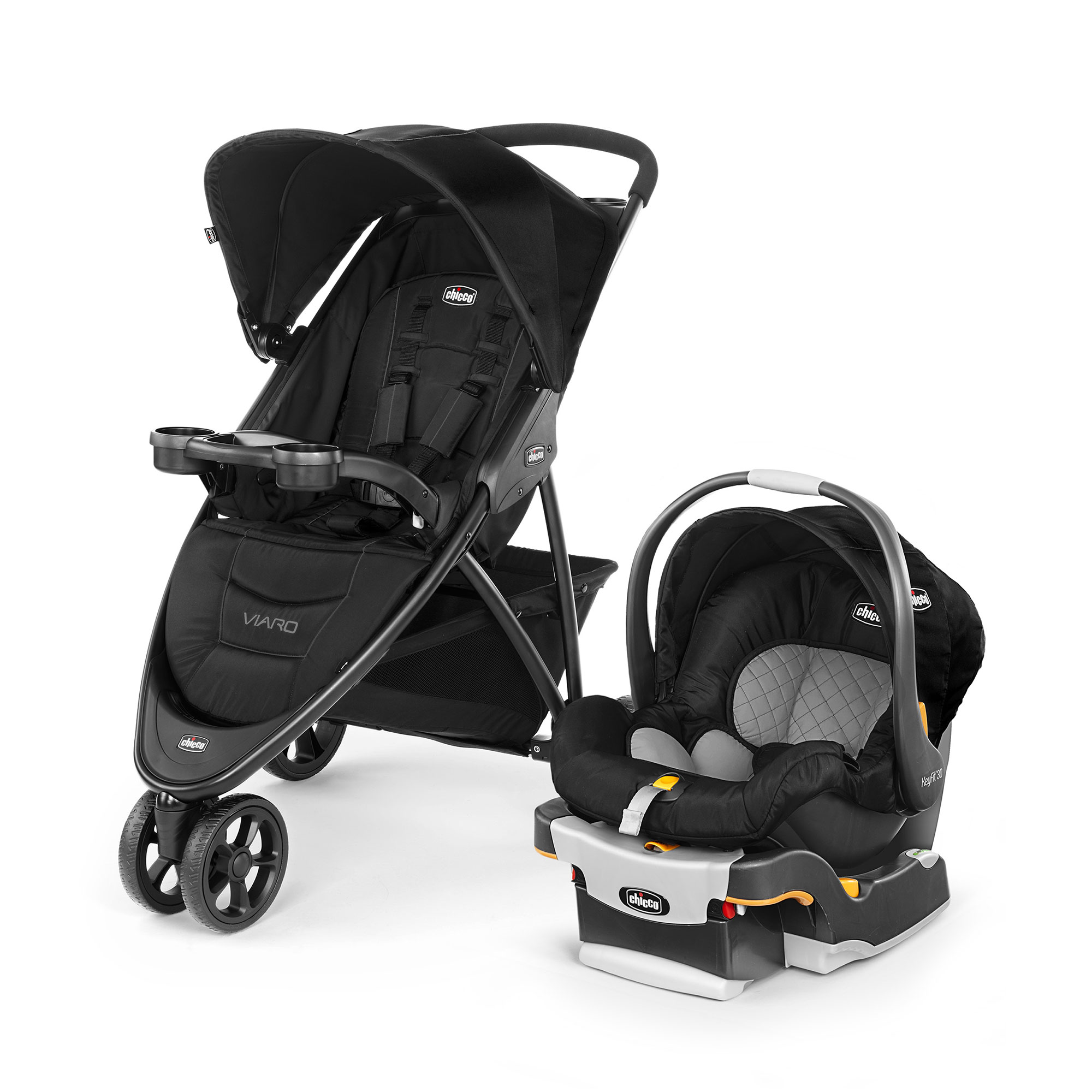 Chicco Viaro travel system review summary
Key stats:
-Car seat fits 4-30lbs, up to 30″
-Stroller can be used up to 50lbs
-KeyFit 30 snaps directly into to stroller with snack tray
Pros:
-Car seat fits newborns well and is easy to use
-Stroller weight of just 18lbs
-Stroller basket is easy to access
-Moderate price for the travel system
Cons:
-Stroller isn't as nice as some competitors
-Car seat lacks "advanced" safety features and extended height/weight limits
---
What's included with the Chicco Viaro travel system
The Chicco Viaro travel system includes the following components:
Detachable snack tray for toddlers (also supports the car seat when in use)
Optional Chicco Viaro accessories
KeyFit base (helpful for quick installation in multiple cars)
KeyFit 35 base (similar to above but adds an anti-rebound bar for extra stability in a crash)
---
Chicco Viaro travel system versions
There's just one version of the Chicco Viaro travel system, but it comes in three different colors: Black, Apex (black with dark grey), and Techna (black with light grey). I know they aren't as exciting as some more colorful travel system options!
---
Chicco KeyFit 30 infant car seat review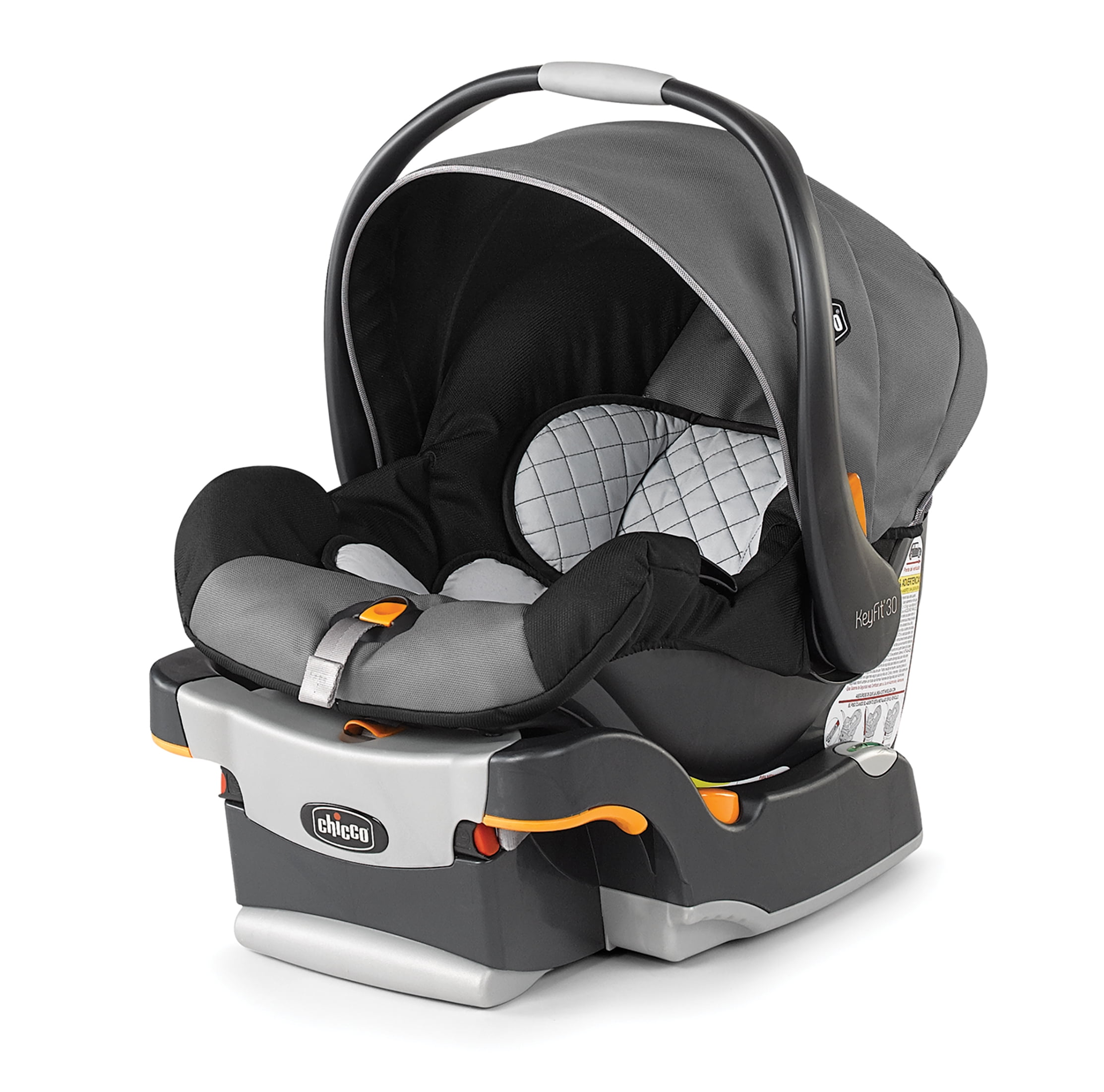 There are two factors that make the Chicco KeyFit 30 one of the best infant car seats for so many American families: it fits most babies well and it's extremely easy to use correctly. We owned the KeyFit 30 for both of our kids, so I can vouch for both of those being true!
The KeyFit 30 is rated for infants from 4-30 pounds and up to 30″ tall. To help it fit tiny babies better, the KeyFit 30 comes with a newborn insert that can be used up to 11 pounds – at that point it must be removed. There's also a head insert that's always option but can be used as long as your baby's harness straps are in one of the two lower slots (you need to put the head insert through the slots above the harness). Whenever your child is rear facing, you want to make sure the straps come from at or below her shoulders (and there's really not thing as "too far below" unless the straps are slipping off).
Important note: You should only ever use inserts provided by the manufacturer. Inserts made by other companies aren't regulated or tested with your car seat.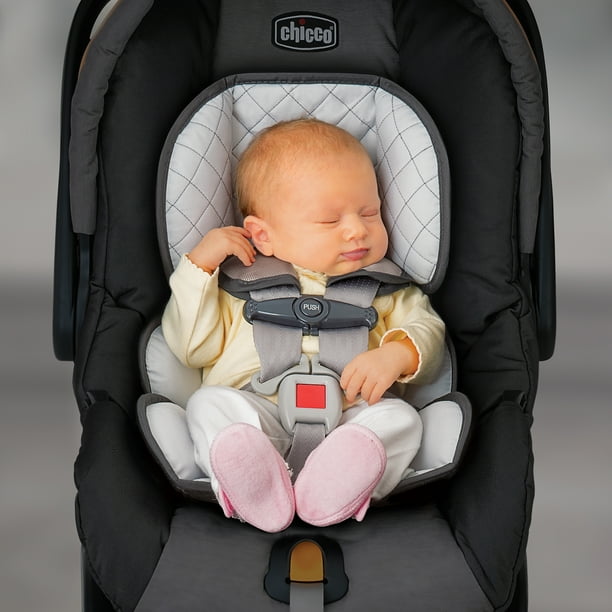 As babies grow, they also need to have 1″ of the car seat shell above their heads (also known as the "one inch rule"). The KeyFit has a nice wide area for babies, so they won't feel cramped in the shoulders as they approach their first birthdays. Most babies officially outgrow their infant car seats by height (either the 1″ rule or standing height limit), but with some other seats parents feel compelled to switch their babies to a convertible car seat sooner since their babies look squished. You certainly won't have that problem with the Chicco KeyFit!
The Chicco KeyFit 30 car seat weighs 9.5 pounds, which used to be about average for an infant carrier but is a little heavier than some popular options these days. From my personal experience I'd rate the canopy as "adequate" but nothing to write home about.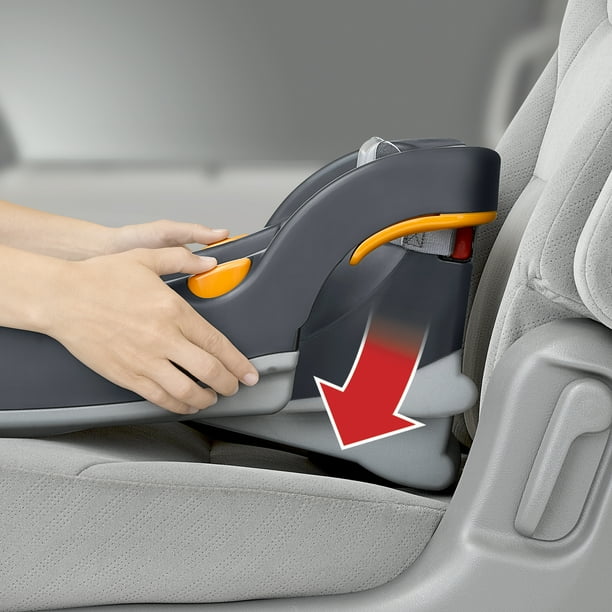 Installing the Chicco KeyFit base in your car is usually extremely simple. Use the adjustable pop-out foot on the base to change the installation angle so that the bubble is in the center of the recline indicator on the side of the base. For LATCH installation, clip in the extremely easy push-on connectors and then pull the tightening strap.
Note that you can only use LATCH for this car seat with standard spacing of 11″ – if you want to install in the center, you are not allowed to "borrow" from the side seats if the anchors are farther apart. In our Camry we had to install in the center with the seatbelt (which was now big deal).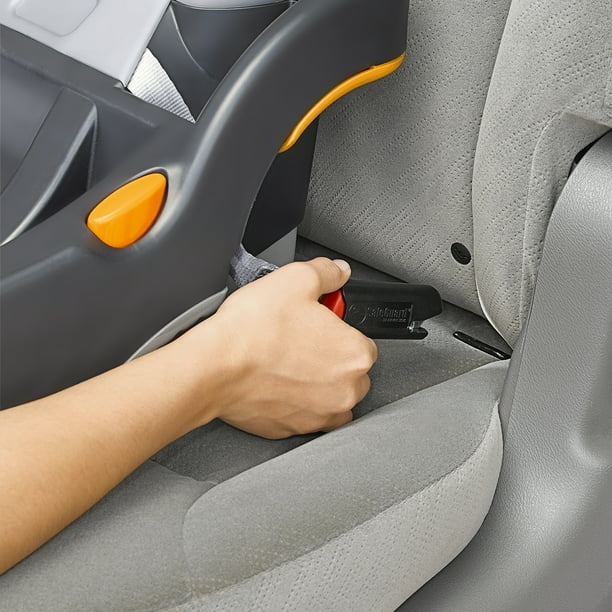 If you do need to install with the seatbelt, the KeyFit base makes it really easy. Run the seatbelt through the belt path of the base, pull out the slack while you push on the base with your other hand, and then slide the shoulder belt into the orange slit (called a "lock-off") on the side away from the buckle. I promise it's not hard once you do it a few times!
You can also install the Chicco KeyFit 30 without the base. Just buckle the seatbelt and run the lap belt through the little arms on either side of the car seat near your baby's legs. Pull the shoulder belt alllllllll the way out until it won't come any further, then slowly let it feed back in to the car; you should hear a little clicking sound as it ratchets back in to the retractor. We call this "locking the seatbelt". Once you have most of the slack back in, look for the level line on the side of your KeyFit and make sure it's parallel to the ground (the bottom of the window frame is a handy reference point). Get it nice and level, then feed the last of the seatbelt's slack in.
No matter how you install the Chicco KeyFit (or any other car seat), you'll want to test it to make sure it's secure enough. The only place you should check for movement is along the belt path, where the seatbelt or LATCH connectors are and close to the vehicle seat back. Using your non-dominant hand, give it a firm handshake back and forth and make sure it moves less than 1″ from side to side.
Overall, it's easy to see why the Chicco KeyFit 30 is one of the top infant car seats in the US!
There are two potential downsides of the KeyFit 30. First, it tops out at 30lbs, 30″ or 1″ of shell above the head. A few years ago that was right in line with nearly every competitor. Today, it's on the lower end as many infant car seats now go to 35lbs and 32″. Second, the KeyFit 30 doesn't have any "advanced" safety features like a load leg, anti-rebound bar or side impact pods. It still passes all Federal testing but new seats are adding those features and they should improve crash performance in many situations. Chicco has now released the Chicco KeyFit 35 to address those gaps: it features higher weight and height limits, an anti-rebound bar and a no-rethread harness all while retaining Chicco's top-notch ease of use and fit to child.
---
Chicco Viaro stroller review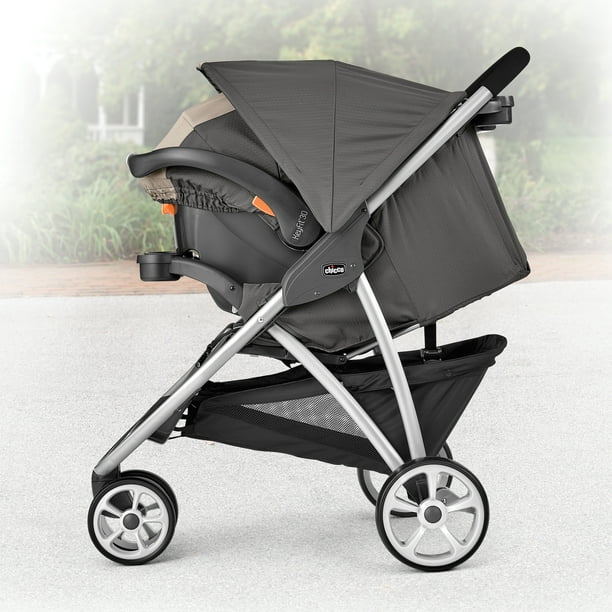 The Chicco Viaro is a solid stroller for everyday use and it will last from birth through toddlerhood. It's a middle-of-the-road model that won't be able to compete with premium brands like Uppababy but compares favorably to other "big box brands" like Evenflo and lower-end Graco travel systems.
In concept, the Chicco Viaro looks a lot like the much-loved Baby Jogger City Mini stroller. When I say "much-loved", I mean by pretty much everyone… we used ours non-stop for six years. I'll offer some comparisons here to help illustrate the advantages and disadvantages of buying the Chicco travel system.
They both have wheels in a triangular configuration, with the front wheels right next to each other. The Chicco Viaro also features a very similar one-hand fold by pulling a strap in the stroller seat. Both strollers weigh around 18 pounds. Both strollers also use the same annoying cord system in the back to change the seat back position – but at least you can use them from early on since they recline to a nearly flat position.
When comparing the Baby Jogger City Mini vs Chicco Viaro, there are a few notable differences. First off, the Chicco Viaro will accept your Chicco KeyFit car seat without buying or installing anything extra. It uses the included snack tray to keep the car seat safely in place – meaning you need to keep the snack tray installed if you plan to click in the car seat. You can attach the KeyFit to the City Mini but it requires an additional adapter. Advantage: Chicco Viaro
One of our absolute favorite features of the Baby Jogger City Mini is the incredible canopy. It keeps the sun off your kiddo whether they're sitting up and looking at the world or laying down for a snooze. The Chicco Viaro canopy is just not that generous – it's basically two of the Baby Jogger's three panels. That's fine when you're using it with the car seat snapped in, as the canopies meet to give full coverage, but not as helpful down the road when your child has outgrown the car seat. Advantage: Baby Jogger City Mini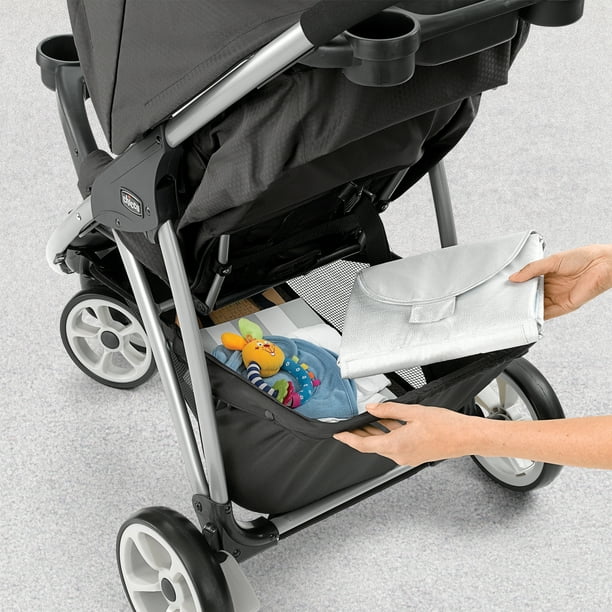 Many parents agree that the absolute worst feature of the City Mini is basket access. If you're trying to fit your diaper bag down there, it can really be a slog. They've tried to improve it over the years by changing the frame shape slightly, but it doesn't make much of a difference. By contrast, the Chicco Viaro has great basket access! The basket sticks out from behind the stroller and is open on top so you won't have to fight with it at all. Advantage: Chicco Viaro
It's a good thing the Chicco Viaro has a nice open basket, because the parent tray kind of stinks. It's hard plastic with water bottle slots that are fairly shallow and not very wide. They're fine for a disposable water bottle, but that's about it. Your beefy reusable water bottle isn't going to fit at all, and you may not feel like your hot coffee is stable enough to put in there safely. On the other hand, the City Mini gives you no parent storage at all. We loved this parent organizer as an add on, though it's still not ideal for huge bottles. Advantage: Baby Jogger City Mini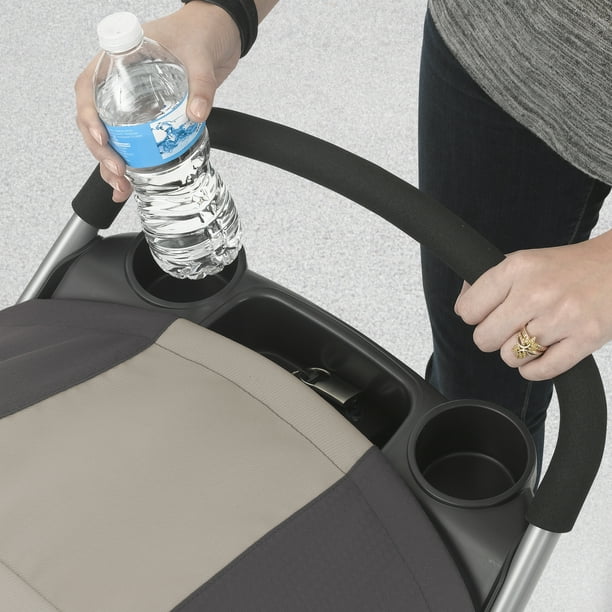 One legitimate complains about the Chicco Viaro is that once folded, it takes up quite a bit of space and it doesn't lock into the folded position. That means if you're lifting it into your trunk, it may flap around. The City Mini has a flatter fold (in part because it doesn't have fixed parent and child trays) and the newer versions have a lock to keep the frame folded. If you drive a minivan or SUV either of these will be fine, but parents who drive a sedan may find the Viaro frustrating to fit in the trunk along with a family-sized haul of groceries. Advantage: Baby Jogger City Mini
Many parents who are really into strollers focus a lot on "push" – how easy or hard it is to push a stroller, especially when it's loaded down. I've owned a lot of strollers over the years, and there's definitely a noticeable difference between low-end and high-end strollers in this department. While it's extremely subjective, the Viaro isn't known for having an amazing push. It'll do just find for smooth sidewalks, stores, and probably even flat grassy fields. But this is not going to be the stroller that gets you through gravel paths and cobblestones unnoticed! Better wheels and/or a suspension system would help with that but would increase the price and weight.
That said, the price really is tough to beat. For an MSRP of $350 (and then take $30 off when you sign up for Chicco's email list), you get a $200 car seat and a thoroughly usable stroller. Many families choose a travel system because it works out cheaper than buying the car seat and stroller separately.
---
Should you buy the Chicco Viaro travel system?
That's the million dollar question, right? If you don't expect to use your stroller all that much or will mostly be walking on smooth surfaces the Chicco Viaro stroller might be a great option for your family. It fulfills a lot of needs at a great price point and the Chicco KeyFit 30 car seat that comes with the set is a home run for sure.
If you want a stroller for hiking or two hour walks in the neighborhood over side walks broken up by tree roots, you may not find the Viaro up to the task. Likewise, frequent travelers will probably want to opt for a more compact option.
---
Where to buy the Chicco Viaro travel system
You can buy the Chicco Viaro travel system from the following stores:
Chicco USA (save $30 when you sign up for their email list)
---
Similar travel systems and strollers to consider
If you love the idea of the Chicco KeyFit 30 for your infant car seat (and you should!) there are a few other travel systems and stroller combinations to consider.
Baby Jogger City Mini + Chicco KeyFit 30 + car seat adapter
As I mentioned above, the strollers are pretty similar but the Baby Jogger has some advantages that parents may prefer. Overall it's a more expensive combination.
Chicco Bravo Trio travel system
If you love the idea of the "matched set" and have just a little more room in your budget, the Chicco Bravo Trio travel system is even more flexible. It also comes with the Chicco KeyFit 30. You can use the stroller in three modes: stroller seat + car seat (the canopies come together for full coverage), stroller seat, or car seat frame stroller. If you know you won't need the stroller seat with you for a given excursion, you can leave it at home and click the car seat on to the frame. You can even do that with the canopy attached. The downside is that the Chicco Bravo Trio stroller is much heaver weight – it's 25 lbs when you have the stroller seat on there. The frame alone is 20 lbs (versus only 11 lbs for Chicco's dedicated stroller frame, the Chicco KeyFit Caddy). See more details here.
Chicco Corso travel system
Chicco has majorly stepped up its game with the new Corso travel system! It seems that they heard all the complaints about disappointing "push" and tried to address them with the Corso – read my full Chicco Corso review for more info. It includes better tires and a suspension system. It's also designed to compete with the likes of the Uppababy Cruz by allowing the toddler seat to face either the parent or out to the world, and like the Bravo you can remove the toddler seat and use it as a lightweight stroller frame. You can choose versions with either the KeyFit 30 Zip or all-new KeyFit 35. See more details and save $30 here.